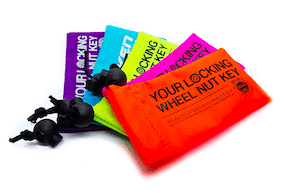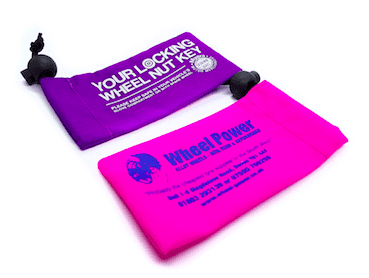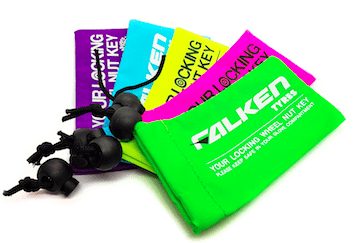 PROMOTIONAL LOCKING NUT WHEEL BAGS FOR CAR GARAGES AND THE MOTOR TRADE
A lost locking wheel nut key can result in the following:
Dealerships and garages are usually held liable for the loss of a customer's locking wheel nut key – so why not provide the key in a brightly coloured bag that is easily locatable?
Replacing a locking wheel nut key can often be an expensive and tricky task – and if your customer suffers a puncture and cannot find theirs, they may attempt to hold you at fault.
An increase in customer dissatisfaction which could ultimately affect the likelihood of new customers using your services.
Benefits of a locking wheel nut key bag:
By bestowing your customers with a branded printed locking wheel nut bag, you not only offer them an easy-to-find receptacle for their wheel nut key thanks to the range of fluorescent colours we provide, but also provide them with a reminder that they received their wheel nut key bag when they collected their vehicle from you.
A custom locking wheel nut bag is an ideal multi-purpose promotional branded tool, helping you to reinforce your brand while also helping customers avoid the loss of their locking wheel nut key and avoiding all the associated hassle and costs of sourcing a replacement.
With a branded locking wheel nut key bag, customers will always have your number to hand.
A personalised locking wheel nut bag always makes for a perfect service-handover gift.
Promotional locking wheel nut bags are a fantastic way to let current and future clients learn about upcoming promotional sale campaigns and establish brand loyalty.
Many of our clients use the custom designs on our wheel nut bags to remind customers of the service they provide – such as puncture repairs, for example – along with contact information.
Why order a locking wheel nut key bag from Myers Motor Merchandise?
Our locking wheel nut bags are extremely long lasting and durable thanks to the quality of both the materials and stitching.
Our skilled creative team are happy to design your locking wheel nut key bag for free – ensuring that you only pay for the finished product.
We offer extremely competitive prices for a premium quality, fully personalised locking wheel nut key bag that your customers are likely to keep possession of for many years.
Our team are a professional but friendly bunch, treating all our clients – regardless of the size of their business – with the same exceptional customer service.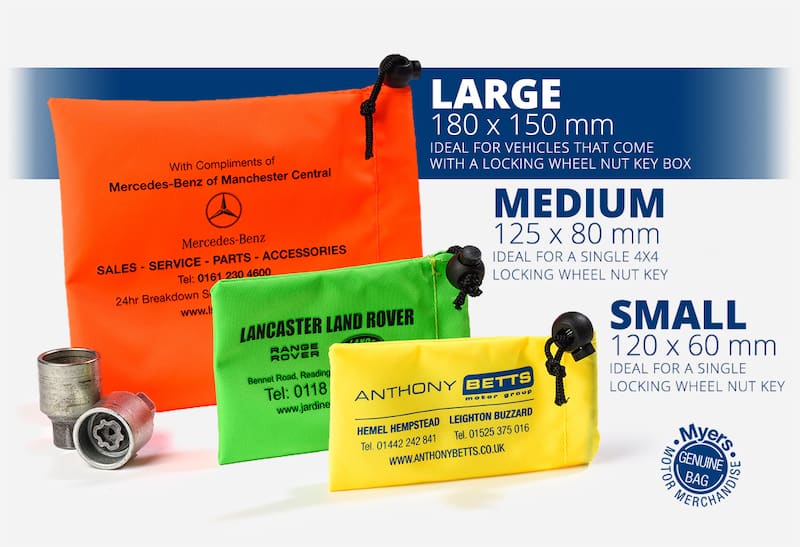 LIKE OUR LOCKING WHEEL NUT BAGS? WHY NOT VIEW OUR FULL RANGE OF PROMOTIONAL PRODUCTS THAT CAN BENEFIT YOUR BUSINESS
We have provided personalised key rings, personalised air fresheners, golf umbrellas and many more for years here at Myers Motor Merchandise as part of our extensive branded merchandise range. We are always willing to work closely with our clients to produce a customised item that fits their brief and helps them to build their brand while also retaining customers.
We like to consider ourselves to be very flexible when it comes to helping car garages and car showrooms design and order suitable items for their business, so even if you are unsure of how to proceed in regard to promotional accessories, we're always available for quick chat for advice on how to move forward. So, no matter whether you're after company logo pens, branded water bottles, or promotional ice scrapers, make sure you contact us today.
SOME OF OUR SATISFIED CLIENTS
CUSTOMER REVIEWS OF OUR PRINTED WHEEL NUT BAGS
I recently purchased some locking wheel nut bags from Myers motor merchandise, for my 24hr mobile tyre service, and to give to my retail customers, with in a couple of weeks of receiving the bags and handing them out, we have generated plenty of sales and customers calling back from using the details on the bag, we have also had some online orders booked, resulting in earning our original outlay back for the bags, I would highly recommend these for anyone thinking of trying them.
Darryl Carrington – General Manager – Protyre

Prompt and efficient service with excellent customer service. The personalised locking wheel nut bags are great quality. Would recommend to anyone.
Lucy Kondi Chadwell Autos